SAFE'n'LOCK AND HIPS
YOUR BEST GATEWAY TO ENTER INDONESIA
INDUSTRY BUSINESS AND MARKET
SAFE'n'LOCK and HIPS has established itself as one of the biggest Industrial & Warehouse complex in East of Indonesia and currently the only one of its kind that has two different complex, the conventional Industrial & warehouse complex or Halal Industrial Park in one big landscape, separated only by a gate. As developer, PT Makmur Berkah Amanda Tbk understands the needs of both shareholders and stakeholders that is riding on the high markets demand for either Halal products and conventional products and thus the establishment of both complex to cater for all investors' need.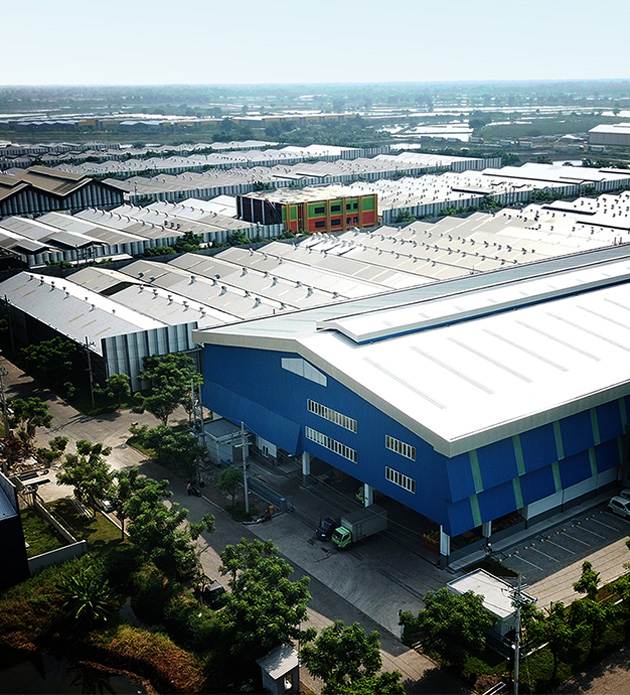 SAFE'n'LOCK Eco Industrial Park is curated specifically for business that requires space to start their venture in Indonesia, be it manufacturing and/or storage of finished products. Strategically located in Outer Surabaya in Sidoarjo Districts, SAFE'n'LOCK is the gateway to East of Indonesia and has recently cemented its place as one of the National Strategic Project by President Decree No 80/2019 and certified as National Vital Object from the Ministry of Industry.
Halal Industrial Park Sidoarjo by SAFE'n'LOCK is establish to accommodate the ever growing demand for Halal products, both for International and Domestic markets. With a concept of sustainable halal ecosystem, HIPS provides state of the art facilities such as Halal Laboratorium, Halal Management Office and other ancillary buildings that is led by a team of experts to ensure that any products retain its property.
As one of the biggest Industrial and Warehouse complex in East Indonesia, our company has over 17 years of experience in catering for the specific needs of investors and gaining their trusts by giving them the right solutions for their business. It is with our team efforts that the company won two consecutive awards from the Ministry of Industry, by proven track records both for our shareholders and stakeholders.
MORE THAN 475 COMPANIES
BELIEVE AND WORK WITH US
HECTARES INDUSTRIAL
AND WAREHOUSE LAND
MORE THAN 17 YEARS
EXPERIENCE IN INDUSTRY
3 AWARDS IN INDUSTRY AND PROPERTY
The Safe 'n' Lock area is located at the front of the Safe 'n' Lock – HIPS area and has been in operation for 17 years and provides services to more than 450 small, medium and large scale companies.
The market is much more aware and conscious about the products that they consume and the increase demand of halal has prompted many companies to increase their Halal products and thus HIP Sidoarjo plans to allocate up to 238 Ha of land to accommodate this.
To ensure ease of business within the Halal Industrial Park Sidaorjo, supporting facilities such as mini market, syariah banks, food and beverage outlets, hotels and many others, will be developed and constructed on top of 17 Hectares of land.
Food & Beverage is the highest contributors in terms of Halal Economics and with the abundance of raw materials in East Java for this segments that is able to contribute to halal finished products, approximately targeted a total of 112 Ha of land to be plotted to serve the needs of Halal Food & Beverage products at HIPS.
SAFE'n'LOCK understand and continues to design and innovate by providing all facilities such as weigh bridge, Waste Water treatment plant and many others to create a one stop service with modern industrial design. Our water treatment plant can support any of your industrial water needs and is being monitor continuously by our team of experts that assure quality of water produce for all our tenants. The waste water treatment plant is able to accommodate up to 1000m3 of waste water daily.
As literacy of the halal products for textile and fashion is increasing, HIP Sidoarjo is planning to allocate a total of 143 Hectares for future developments as the market grows.
COMPANY
PRESS RELEASE
AND PROMO
SAFE'n'LOCK provides ease of doing business transactions, easy access towards highway, complete facilities and most importantly provides a safe and sound environment to do business. I have since bought 5 more units and now I own 6 units here in SAFE'n'LOCK.
"Saya kira kita memang mendorong pertumbuhan kawasan industri halal (KIH) itu memang program pemerintah dan salah satu fokus dari pengembangan ekonomi dan keuangan syariah kita."
Bought my first units in 2009 and what attracts me in SAFE'n'LOCK has got a very beautiful green environment with lots of trees. Not only that, the safety and ease of doing business in the area with its facilities such as food court, mini mart makes it much more convenient and confidence for me to invest in SAFE'n'LOCK by adding another 5 more units in my portfolio